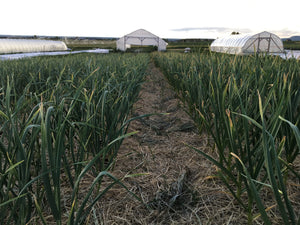 The Grasshopper Collective is a farmer owned and operated cooperative formed in 2021, after a wild growing season in Mancos, Colorado…
Drought had imbedded itself in the Southwest. Years of above average temperatures combined with below average precipitation set the stage for dry fields and dramatic shifts in insect/pest populations. For farmers and ranchers in the Mancos Valley, the drought and erratic climate swings resulted in an explosion of one pest in particular…grasshoppers. They started off small but astounding in numbers. Time passed, grasshoppers continued to grow, and soon they dominated the entire valley to a degree one could almost deem biblical? They made every field, garden, and pasture their snack bar. They moved in masses, clouds of insects spanning across the land, devouring almost all vegetation in their paths. Throughout the season, a small group of vegetable farmers gathered over evening potlucks to brainstorm paths to resilience for our businesses and lives.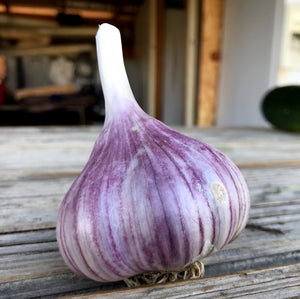 The intense growing conditions left us with many questions…
In an age of drought and increasing climate instability, how can we adapt? How can vegetable growers be better prepared for years like this? What crops make sense for the future? Amongst our four farms, one plant stood out as particularly resilient, and that was GARLIC! Garlic harvests were bountiful across the board. It seemed that this pungent, powerful Allium was exceptionally undesirable to the hoppers. Beyond that, its timely July harvest window makes garlic a reliable crop to produce, even in the tightest of water years. Garlic thrives at our high elevation and appreciates the cool nights and desert air. On the consumer and market end, it is a keystone of the culinary world, and an essential item in many growers seed stock.  
Thus, the idea was born – let's grow more garlic – let's start a Garlic Seed Company – and with what better name than "The Grasshopper Collective."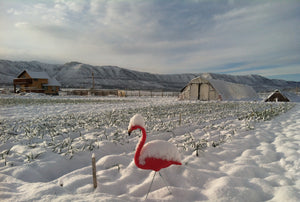 Why Farm Cooperatively?
As a farmer run cooperative, we are sharing risks, responsibilities, and utilizing shared resources to achieve greater success than any farm could gain individually. By pooling our various skills, perspectives, and assets we can more effectively achieve economies of scale. We believe in the importance of farmers working collectively for the greater benefit of agriculture.   
Big THANK YOU to Rocky Mountain Farmers Union Co-Op Center for the support and guidance is forming our Farm Cooperative.
Meet the founding Members
Banga's Farm
I am Dave Banga, owner of Bangas Farm. I've been growing vegetables, seed garlic, and culinary garlic in a swampy, few acres of the high desert Mancos Valley for well over a decade. Hard neck  garlic grows really well on my farm and I've narrowed it down to growing two varieties that are customer favorites. By being a part of The Grasshopper Collective I hope to focus almost exclusively on laying in a hammock watching top notch seed garlic grow. Wish me luck with that! When not doing the summertime chores of planting, irrigating, weeding, and harvesting I enjoy eating, skiing, and traveling.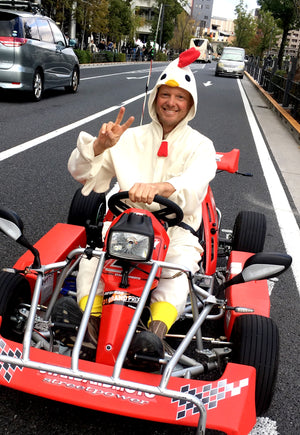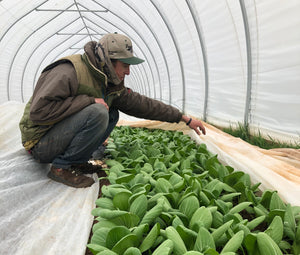 Sol Vista Farm
Sol Vista Farm LLC is located in Mancos, CO, sandwiched between Banga's farm and Mountain Roots Produce. We grow a small variety of select vegetable crops (squash, onions, beets, carrots) and an array of crops for seed such as cosmos, zinnias, beans, and more! Duke Jackson is the soul operator of the farm, with the occasional help from friends and special guests. 
Two main reasons for forming the Grasshopper Collective. (1) the desire to shift and adapt my farm to the pressures of drought and climate change and (2) I believe that effective cooperative models hold much promise for the overall success of small farms.  When not farming, you can find Duke picking wild gourmet mushrooms in the mountains.
Mountain Roots Produce
Mountain Roots Produce, located in the Mancos Valley of the Colorado Plateau, is owned and operated by Mindy Perkovich and Mike Nolan. We grow on 7 acres, with mainly cover crops on rotation with high succession market vegetables and storage crops. In the past we have run a CSA and managed a dozen wholesale restaurant and front end retail accounts, but are currently focusing on market stands in Telluride and Mancos in the 2022 season. We joined the Grasshopper Collective to gain more control and resilience in our operation in the face of climate change, water scarcity, and grasshopper pressure. We love the slow down of fall/winter on the farm, and enjoy live music and playing board games with friends.
Learn More