All of the member farms of the Grasshopper Collective are committed to growing garlic in a way that preserves the health of our soil while providing an abundance of high-quality garlic seed on relatively small acreage. While each farm has its own special way of achieving these goals, common practices include cover cropping, mulching, amending with natural fertilizers, crop rotation, and minimal tillage. By working together in a cooperative, we are able to share knowledge and resources that would otherwise be challenging to access individually. It is our mission to continually improve on these strengths to help grow and secure an abundant future in each of our own farming operations.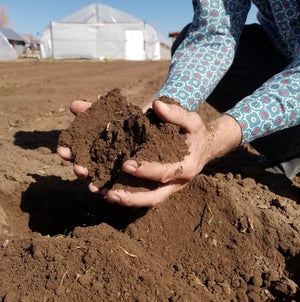 Soil Health
Our farms are located in the Mancos Valley, an irrigated and otherwise semi-arid basin in Southwest Colorado. Though our growing season is short and our soils are fragile, we strive to build organic matter to improve our soil health thru crop rotations, minimal tillage, and cover crops. We aim to maximize water holding capacity and nutrient cycling while maintaining a health soil biota by working with our soil and not against it.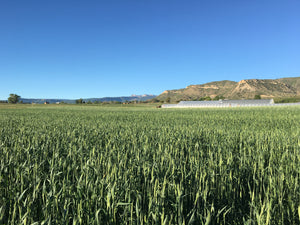 Cover Crops
Cover Crops are pillars on our farms. Keeping our soil covered when not in production is of utmost importance to building healthy soil, minimizing erosion, and increasing organic matter. From diverse mixes of multi species cover crops on fallow blocks in the summer, to triticale, pea and vetch mixes that hold our soil in place for long winters, the Grasshopper Collective members are continuously experimenting with ways we can help our soil (and our Garlic!) be the best it can be.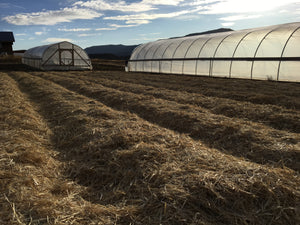 Fertilizers and Compost
Though none of our farms are currently certified organic, we focus on using non synthetic fertilizers and locally produced compost made from beer mash and wood chips to help push along our garlic crops. Conventional herbicides, pesticides, and insecticides are not part of any of the Grasshopper Collectives member's practices .